Dance Notes, Volume VIII, Issue 1, Jan/Feb 2005
Ken Greer... Connecting Dancers In A Dot-Com World
by Mary Jo Philips
If you're looking for a dance partner, look no further than www.dancepartner.com. It is a comprehensive and easy to use website where dancers are able to find partners in all styles of dancing. As a competitive dancer, Ken Greer realized the difficulties in finding and connecting with a dance partner. He began this venture in 2003 and it has been overwhelmingly successful. As an active dancer, Ken practices for competitions, is involved in dance organizations and also has other dance websites. He is very dedicated to dancing and spends a large part of his time overseeing the websites. Ken is excited about the rapid growth of this project and looks forward to what the future may hold.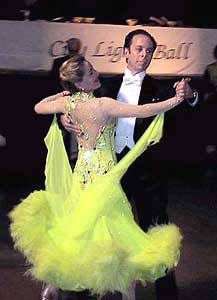 Ken Greer & Katarzyna Firosz
City Lights Ball, San Francisco
What inspired you to start this business?
As a dancer of 15 years, one common problem I noticed for myself and friends over the years was the frustration we all shared in finding an appropriate dance partner. I am a competitive ballroom dancer and there were periods in my career that I spent well over a year looking for an appropriate partner, spending countless hours traveling to other studios, talking to coaches, and trying to hook up with someone by word-of-mouth.
It occurred to me that the dance community needed a better method of connecting. With the success of internet dating sites I felt the same concept could be applied to dance partnering. DancePartner.com was born! Not a dating site per se, but patterned after them, a dancer can enter their profile: dance styles, experience, height, weight, age, postal code, photos, etc. and similarly specify what they're looking for in a partner. This takes only a few minutes and when done, the dancer clicks PARTNER SEARCH and a list of compatible partners is displayed.
How long have you been operating these websites?
DancePartner.com went live March 2003. In less than 2 years we've exceeded 18,000 members [now over 53,713 - Editor]. And we're growing at quite a rate of over 1,200 dancers per month. I guess it's a resource that we dancers needed!
Can you share some success stories your patrons have had using DancePartner.com?
I get weekly e-mails from dancers thanking me for making this site available, as there has been nothing else quite like it before. I'm aware of many dancers, including several friends, hooking up with dancers from the other side of the country and around the world. These are people who would have never met without DancePartner.com. The website really has brought dancers together regardless of their geographic location.
Recently, I used the site for my own partner search. As the Bay Area is such a close-knit community, I thought that I already knew everyone in the area. I was wrong! Within a week I had 10 tryouts set up! I was so surprised to find and meet local ballroom dancers I had never met before!
What kinds of dancers are most attracted to DancePartner.com? Social dancers? Novice dancers? Those in the Bay area? More men? More women? More Latin dancers, or more Standard dancers?
DancePartner.com has attracted both social dancers seeking partners for social dancing, practice, and sharing lessons, as well as competitive dancers seeking competition partners. The skill level ranges from absolute beginners ("I just started last week and I love it") to world-class competitors.
DancePartner.com's geographic representation is worldwide, with the largest concentration being in the East and West coasts of the US and England. However, we represent a great many dancers in Canada, Australia, Singapore - over 200 countries in all.
Site statistics show registration about 60% women and 40% men. We cover over 60 dance styles, and it's hard to say that any particular one is represented more than any other. At the top are: Social Ballroom, Smooth, Standard, Rhythm, Latin, Salsa, Hustle, and Ceroc.
There appear to be other websites where dancers can look for partners. How is your business/service/website better than your competitors?
For those websites, dance partnering is generally not their core business and they appear to put little effort in them. Dance partnering is, however, all we do.
We spend a great deal of money on advertising because we know a large database of dancers is really what's most important. That's resulted in over 18,000 members in less than 2 years. And we're currently growing at a rate of 1,200 new dancers joining per month. The next largest dance partnering service has been around for 5 years and has about 800 members. However, it's not their core business.
We've created a high quality site with features that make our site easy to use, useful and successful. We offer sophisticated, yet easy to use, searching to display matches that meet your specific criteria, as opposed to what others do - a list of matches, many inappropriate, that you need to wade through. We also offer partner cataloging, favorites lists, photo gallery, and private e-mailing to name a few of our services.
What are DanceSpots Network and Dance-Ads.com about?
DanceSpots Network (www.DanceSpots.net) is a site of dance venues and teachers around the US. It's the first website I built when I retired from my "real job." I travel a lot and felt there was a need for a catalog of places to dance around the US. It has become very successful with over 4,000 studios and teachers represented.
Dance-Ads.com is a classified advertising site for dance goods and jobs. Individuals and companies can enter basic listings for free.
Is this your "real life" job, or do you have another?
I ran a software company for 14 years, which was sold a few years ago. I felt too young to retire and these websites are now my "real job." I spend nearly 60 hours per week on these sites and I love it because dance is something I'm really passionate about. I also really enjoy helping others connect and succeed in their dance careers.
Your website mentions that you promote dance in the San Francisco Bay area, and sponsor fundraisers for other dancers. Can you give me some examples of how you promote dance? What kinds of fund raising events for dancers work?
I am a volunteer board member of USA Dance, formerly called USABDA, Northern California Chapter; founding member of sjDANCEco, an organization that brings dance to the community; I've sponsored several dance fundraisers at my home studio for non-profit organizations including the Leukemia Society and Cancer Research; and I've organized two "Dance-a-Thon" event fundraisers; helped organize and run Dancin' Downtown for two years, a local event that showcases all forms of dance to the community.
If you could talk to a whole ballroom of dancers about your website, what would you say to them? What advice would you give them about looking for a partner on your site? What advice would you give someone who wanted to start a website like yours on the East coast?
I'd say if you're looking for a dancer partner that DancePartner.com is the easiest, fastest, and least expensive way to find one! And you'll also be presented with the largest number of choices. Unlike asking friends and local coaches, you'll often be presented with dozens of matches.
Advice for site use: Include at least one photo! Many people don't, not realizing how important photos are to those seeking partners. A photo reveals so much about a person, more than words do. Include complete and witty! "More About Me" and "I'm Looking For" sections. People care about what you're like and want to know what you're looking for in your own words before they contact you. Login often. Those with stale accounts don't get contacted.
Regarding starting a similar site on the East Coast, I'd say there's no need. We are not geographic specific; we are worldwide. Indeed, we have more members on the East Coast than the West Coast.
Tell me about yourself as a person. How would your dance coaches describe you? What would your fellow competitors say about you?
I'm passionate and energetic about what I like, yet I'm also laid back and casual. I have a good sense of humor, quirky many would say. I've been told that I have a very British sense of humor.
My coaches know that I'm a very serious and dedicated dancer; a hard worker – I practice 6 days per week. But I work hard because I love it.
Fellow competitors know me as friendly and non-competitive. I'm very supportive of my fellow competitors. Sure, winning is great, but I dance as a hobby because I love it, not to win anything.
Can you tell me about some highlights of your dance career?
Well, at a Las Vegas competition I forgot to bring my pants! Does that count? I forgot the pants to my tail suit – I ended up dancing in black Dockers!
I can't think of any one particular highlight. The only thing I can say is that I'm thrilled to have found dance and I love it. I'm also thrilled to be finishing now at the top of the pre-champ division. Entering the championship level, perhaps in 2005, will most certainly be my biggest accomplishment.
What are your goals for yourself dance-wise?
My personal goal is to reach the Championship level in International Standard, a goal I hope to reach in 2005. I am also considering turning pro because I enjoy helping others.
What goals do you have for DancePartner.com?
My first goal for DancePartner.com has already been met! When I built DancePartner.com my goal was to break 10,000 members. I've already surpassed that with 18,000 members in less than 2 years!
My next goal is to make DancePartner.com a "household word" among dancers and exceed 50,000 members. I am thrilled that I can offer dancers such a valuable resource.
Do you have a favorite dance couple?
Yes, my favorite dance couple is Tomas Atkocevicius & Aira Bubnelyte, a very talented Lithuanian couple who moved to the US about a year ago. Their dancing is beautiful, expressive, powerful, yet as smooth as silk. They are also my current coaches, so I may be biased!
Is there anything else you want to tell our readers?
Yes! In my career of finding a dance partner I have one sage word of advice: Dance with someone! Don't wait for that perfect partner. Maybe you'll eventually find a perfect match, but in the meantime, dancing with someone, even if you're at different skill levels, height, age, or whatever, is better than staying home. At the end of the day, you'll both have had fun and improved yourselves. And that's what dancing is really all about.

Copyright © 2005 Dance Notes. Reprinted by permission.